Identity Dance Examinations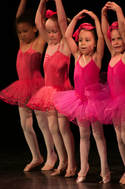 Identity Dance have their own exam syllabus which embraces elegance and passion as well as technical expertise. We hold exams for dancers under our own examination body in 5 levels and advanced (classical ballet level 4, pointe work is introduced and developed up to the advanced level). The syllabus has been created to a professional standard that follows the most important assets of training to become a professional dancer. We teach the correct alignments and weight placements to strengthen and use the correct muscles, correct posture and leg extensions. Our syllabus is very structured with aspects of fluidity to ensure the dancers can express individuality. Each dancer will gain the confidence they need through solo assessment within the exams, to express their passion through a choreographed dance piece.

There are many other exam bodies that have different qualities and looking into what suits you best is recommended as all dancers are unique. It is not necessary to do exams to learn ballet or to follow dance as a career; however, we do recommend a structured class and the exams not only help teachers see how our dancers have progressed, but are also beneficial to the dancers as it allows them to experience what an audition would entail.

Certificates will be presented to each dancer with a pass grade and a separate marking sheet so you can see where improvements need to be made. Our grading system, ungraded, pass, merit, highly commended and distinction.

---